---
Home About us Cabins Downhill skiing Map Updated info Panorama
---

Links to text on this page
About us The cabins Hiking Skiing Fishing Weatherconditions Reservations
Place the cursor over the images to see captions
About us
Småbruket Västerbäcken is an old small farmstead where we have a number of cabins. Today we have no farming except for a little haymaking to keep the fields open. The farm is located in a woodland clearing with easy access to the road about 3 km south from the lake Grövelsjön at an altitude of 720 m. There are views to the nearest mountains in the east and the Norwegian mountains in the west can also be seen from here. In wintertime there is a system of machine set skitrails through the valley with a connection to our farm. The surrounding mountains can also easily be reached from here. The treeline is at an altitude of about 900 m and the peaks rise to 1100-1400 m. The valley of Grövelsjön is located in the middle of a big nature reserve, a vast unspoilt mountain wilderness. The Grövlan river adjacent to Västerbäcken provides good opportunities for fishing. Food may be bought from the local shop in Storsätern 2 km south from us and several restaurants and cafés are available in the area. You will find us about 500 kms north-west from Stockholm, 650 kms north from Gothenburg and 350 km north-east from Oslo.
The cabins
The cabins are very clean and proper - new or newly restored. Indoor smoking is not allowed. Flush toilets and hot and cold water are provided throughout. There are also showers in all the cabins except the three smallest. Extra showers and a sauna is located in a separate building divided for male and female use. The cabins are available with four to ten beds each with bed quilts and pillows. We ask our guests to bring their own bed linen and towels. The kitchens are well equipped and have a refrigerator and an electric cooker including oven. There is also a drying cabinet and a television set.The cabins are cleaned regularly and we ask our guests to tidy up before leaving.
Our cabins are available all year round but during the following periods they are only rented for a minimum of one week. From mid February through Easter, weeks run from Saturday to Saturday.
Around Christmas and New Years Eve weeks can run from any day. During the rest of the year they are available for any number of days. Hosts are on the farm all the time to assist if any problem should arise.
Smoking
Our policy is to offer smoke free and clean cabins. Smoking is therefore not allowed in any of the cabins. Of course there are no smoking restrictions outside.
Hiking
The mountains and woods have a network of marked and unmarked trails. In Summer and Autumn we recommend our guests to carry a light backpack containing provisions and some extra clothes for daytours. Every season here has its own particular charm and the combination of beautiful scenery with opportunities to watch nature make for a rewarding and memorable experience. Fresh air, cool mountain waters and silence await you.

Skiing
In the winter, from early November until the end of April, the Grövelsjön area offers about 100 km machine set cross-country skitrails groomed mostly for racing but several also for skating, and in addition several marked trails on the mountains. About 1,5 km from our farm is Grövelfjäll, a mountain ski area with lifts for down-hill skiing. The lifts are usually running from Christmas to late April. Ski equipment for cross-country skiing and downhill skiing can be rented at skishops locally and a ski school operates during the main season.
Fishing
The rivers and lakes offer exciting fishing for trout grayling and char. In summertime the best time for fishing is early in the morning or later in the evening. Ice fishing on the lakes takes place from February to mid May. Ice fishing is a strong tradition in Sweden. The lake Grövelsjön is usually ice-free from the first week in June when summerfishing can begin. Fishing in running water is not allowed from 1 September until 1 May but fly-fishing for grayling is permitted in some rivers until 30 September. Live bait is generally available. A license is always required when fishing and can be purchased from us.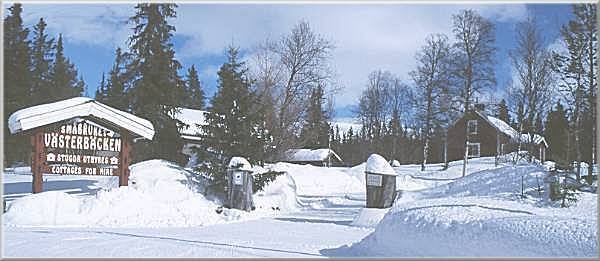 Weatherconditions
The summer season from June to September is normally warm and pleasant but some days can be cold and windy. Therefore we recommend you bring some warm clothes. In wintertime the normal daytemperature is between 5-15 °C below zero. The temperature can sometimes fall to minus 20-25 degrees and in extreme cases to minus 30 degrees. However the dry air in Grövelsjön creates a much more acceptable climate than is normally found in the middle of Europe. If you travel by car in wintertime we recommend you to change the car engine oil to a low viscosity multigrade type and that you also check the possibility of buying or renting a set of winter tyres. Also make sure that the engine cooling system is filled with a 50/50 ratio of water to antifreeze.
The Swedish language
Swedish has three extra letters Å Ä and Ö. Å is pronounced as a in fall. Ä is pronounced as a in bag. Ö is pronounced as i in girl.
Reservations
Please e-mail us for additional information and our price list. The cabins are priced as a unit and not per person. Reservations may be made by phone fax or e-mail. Please leave your full name, home address and phone number. Always make sure you get the reservation confirmed in writing. We can reply in English but if you wish to send us a written message in German it can be easily translated into Swedish if e-mailed.
Småbruket Västerbäcken
Grövelsjövägen 430 Västerbäcken
SE-790 91 Idre
Phone int +46 25323300
Telephone hours weekday 09 - 20 Saturday & Sunday 09-18
Fax int +46 25323300
E- mail vasterbacken@grovelsjon.nu
Last modified April 28 2011
URL: http://www.grovelsjon.nu
Innehållet på denna sida är skyddat av den svenska upphovsrättslagen
All contents copyright (C) 1999-2001, Småbruket Västerbäcken. All rights reserved.