A SIMPLE MAP SHOWING THE CENTRAL PART OF THE GRÖVELSJÖN AREA
Grövelsjön is located near the Norwegian border on latitude 62° about 40 km north from Idre, 500 km north-west from Stockholm, 650 km north from Gothenburg and 350 km north-east from Oslo.
The map below displays only a small part of the big area of mountains, woods and lakes that surrounds Grövelsjön.
Real mountain maps can be purchased from a Swedish bookstore or at Grövelsjöns Fjällstation.
Ex. FJÄLLKARTAN scale 1:100 000, W 1 Rogen - Grövelsjön - Idre
or scale 1:50000, 162 C Grövelsjön, 172 A Rogen and 1719/2 Elgå.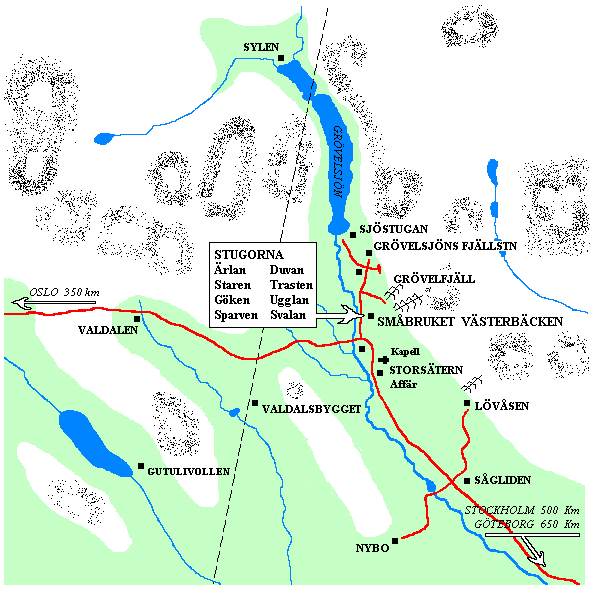 ---
Home About us Cabins Downhill skiing Map Updated info Panorama
---
Småbruket Västerbäcken
Grövelsjövägen 430 Västerbäcken
SE-790 91 Idre
Phone int +46 25323300
Telephone hours weekday 09 - 20 Saturday & Sunday 09-18
Fax int +46 25323300
E- mail vasterbacken@grovelsjon.nu
Last modified April 28 2011
URL: http://www.grovelsjon.nu
Innehållet på denna sida är skyddat av den svenska upphovsrättslagen
All contents copyright (C) 1999-2001, Småbruket Västerbäcken. All rights reserved.